Every Child Online Case Study – Connecting Young Talent to the Internet. 
Every Child Online, an organisation dedicated to closing the digital divide and improving digital education for children and young adults, has recently partnered with The Song School CIC, a not-for-profit social enterprise based in Southend-On-Sea. This case study examines The Song School's charitable goals and how its mission aligns with the broader objectives of Every Child Online.
The Song School's Charitable Goals:
The Song School CIC is committed to fostering a vibrant and inclusive community for music making, with the goal of making music accessible to all, regardless of their circumstances. Here are some key elements of The Song School's mission:
Breaking Financial Barriers: The organisation aims to eliminate the financial barriers associated with learning music outside of school. They provide student bursaries, workshop opportunities, and scholarships to help cover tuition for children from low-income households. This approach ensures that all children, regardless of their financial background, have the chance to explore and develop their musical talents.
Community Building: The Song School actively seeks to bring together children and young people from diverse backgrounds and circumstances. By creating a welcoming and inclusive community, they contribute to building a fairer and more understanding society. In doing so, they embrace diversity and promote unity through music.
Music Education Programmes: The Song School offers various extra-curricular music classes, including disciplines like songwriting, singing, and instrument coaching. They also organise school holiday projects with music at their core. These programmes provide children and young adults with opportunities to explore their musical interests and talents in a supportive environment.
Nurturing and Supportive Environment: The organisation's approach is to create a fun, nurturing environment for children and young people at all stages of their musical journey. Instructors focus on helping students develop their skills to the best of their ability while fostering resilience, self-esteem, and improved mental well-being. Collaboration and mutual support among students are encouraged, creating a positive and motivating atmosphere.
Alignment with Every Child Online:
The partnership between The Song School and Every Child Online is a remarkable example of synergy between two organisations with distinct but complementary missions. Here's how The Song School's goals align with the mission of Every Child Online:
Closing the Digital Divide: Every Child Online's primary goal is to bridge the digital divide by providing digital resources to children who may not have access. By donating a touchscreen TV and refurbished iMac laptops, The Song School directly contributes to this mission by ensuring that children from low-income backgrounds have the technology necessary to access digital educational content.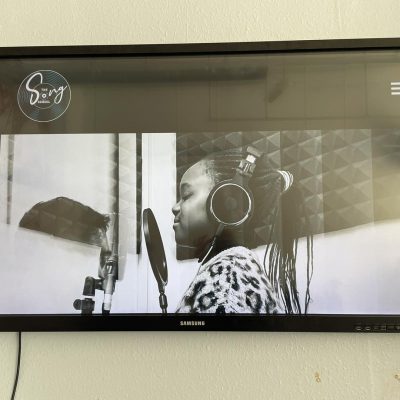 Improving Digital Education: The partnership allows The Song School to enhance its educational programmes by incorporating digital tools and resources. This not only enables children to explore the world of music but also to develop digital literacy skills, which are increasingly essential in today's education landscape.
Inclusivity and Equity: Both organisations share a commitment to inclusivity and equity. The Song School's efforts to eliminate financial barriers align with Every Child Online's mission to ensure that all children have equal opportunities for digital education.
Community Engagement: The Song School's welcoming and inclusive community-building approach resonates with Every Child Online's aim to create a sense of community around digital learning. The partnership strengthens the network of support available to children in need.
Conclusion:
The partnership between The Song School and Every Child Online is a shining example of how organisations with distinct missions can come together to create a more comprehensive support system for children and young adults. By sharing resources, knowledge, and a commitment to inclusivity, they are not only closing the digital divide but also enriching the lives of children through music and digital education. This collaboration is a testament to the power of organisations working together to make a positive impact on the lives of the next generation.