Startup founders, Simon Gurner and Mike Tarbard have set themselves a challenge to raise five thousand pounds for their campaign Every Child Online (ECO)
On the 24th October, the two intrepid businessmen will take on the peaks of Pen-y-Ghent, Whernside and Ingleborough, located in the Yorkshire Dales. The route will see them walking and climbing for twenty-four miles across iconic countryside scenery while ascending to heights of 5200 ft. – JustGiving Page – https://buff.ly/33SWC2j
What will your money be spent on?
Every Child Online refurbishes unused laptops and PCs donated by local businesses; once the hard drive is wiped of company data, the computers are cleaned, upgraded and handed to underprivileged children via their schools. Funds raised will help the charity install software and hardware upgrades, plus provide accessories like mice and keyboards.
Why the need for refurbished computers?
As a result of actions taken to keep children at home during the COVID 19 pandemic, many schools have discovered a surprising number of pupils without access to a computer or the internet, some even attempting to complete homework set by their teachers on a mobile phone!
The Sutton Trust, an institution set up to support social mobility amongst young people, ran a poll which discovered that 34% of pupils do not have regular access to a laptop or computer at home. Pupils attending independent schools were twice as likely to take part in online lessons every day, compared to their disadvantaged peers.
The effect of this "digital divide" between the wealthiest and most disadvantaged pupils in our society will be long-lasting and highly damaging. The Education Endowment Foundation predicts that school closures are likely to reverse progress made to close the gap in the last decade since 2011. The median estimate indicates that the gap between disadvantaged and non-disadvantaged will widen by 36%. A decade's worth of progress, may fall to the wayside as pupils without regular computer access have fallen behind, and with a continued lack of access throughout their time at school, stay behind.

"It is our goal to help close the attainment gap" comments Simon Gurner, ECO Founder and owner of Sunrise Technologies. "We continue to call on businesses to consider donating their unused computers and thank those who already have, or have promised to do so in future. Now we need to raise funds to help refurbish donated equipment to a good standard."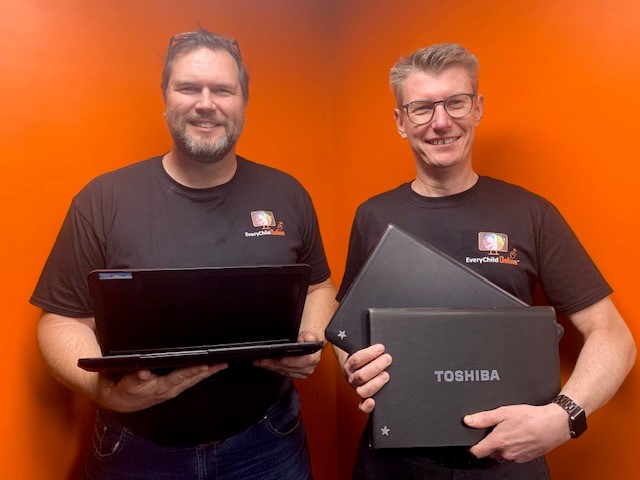 Please support Simon and Mike's efforts to raise funds; this is not going to be an easy challenge, so please give as much as you can. Their JustGiving page is https://www.justgiving.com/crowdfunding/every-child-online-three-peaks-challenge?utm_term=zEXyjJnpW Every refurbished computer will make a huge difference to a child's education and future career prospects. Thank you
Ends.
Press Contact: Mike Tarbard – Mike@everychildonline.co.uk – 01268 544074